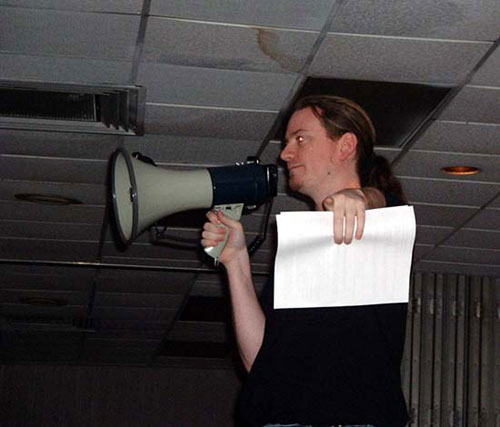 The Gamers' Gauntlet Fearless Leader, Bad Mojo. Note how Bad Mojo is both making announcements and directing our staff photographer at the same time. With multiprocessing skills like this we're all betting Bad Mojo is running on OS/2! Bad Mojo runs the CS tournament, sets up DHCP, DNS, FTP and manages the rest of us fools.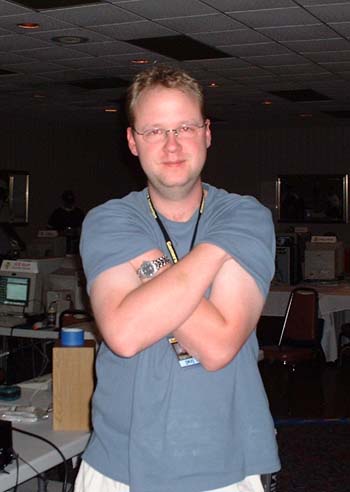 [KI].Time2Die with what looks to be cold hands. Time2Die manages the Q3 servers, configurations, LAN gamespy master (nitromaster) and the G2 web pages.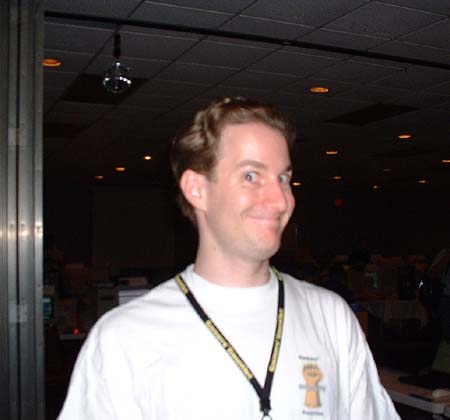 Quintin Stone, our CS tournament coordinator, fun tournament coordinator, organization treasurer and mad mod programmer extraordinaire. You all know Stone as the G2 email announcements guy.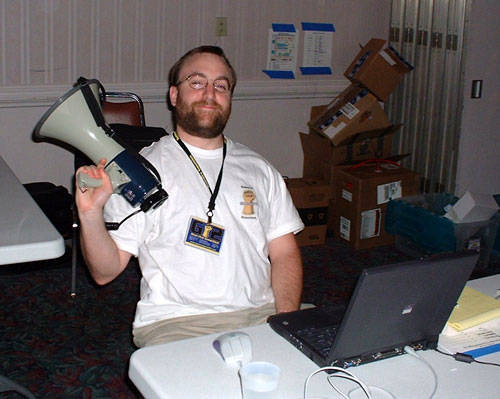 Aetius, who ran many of the not-so-fun late night shifts. Thanks to Aetius for our main backbone switch and keeping us sane at our staff meetings.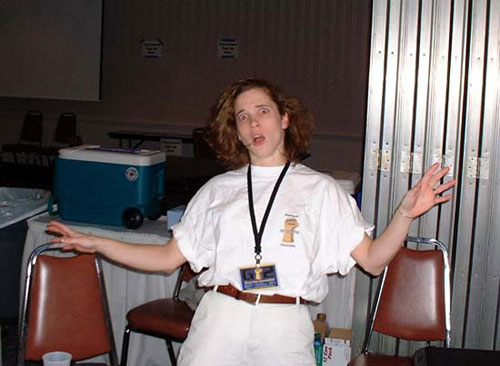 smeg, completely shocked (and excited) she came in second place in the Serious Sam tournament! smeg is the registration and tournament coordinator. Basically if it's something that can be printed smeg probably had a hand in it at some point.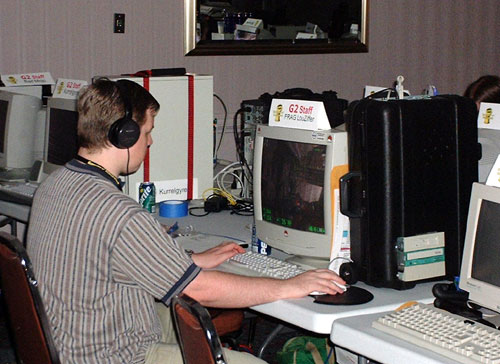 LouZiffer is our network, layout and cabling expert. You can thank him for the new sweet CAT 6 cabling we have and our great switches. Here you see him making sure everything's running smoothly... or is he just practicing up for the Worms World Party tournament he's coordinating?!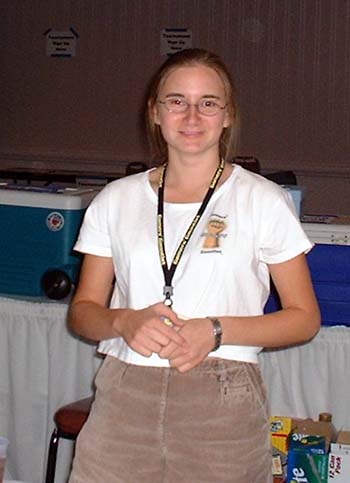 [KI].jargirl is one or our Tournament Coordinators and does registration as well. When she's not running a tournament she's busy playing in the Q3 servers.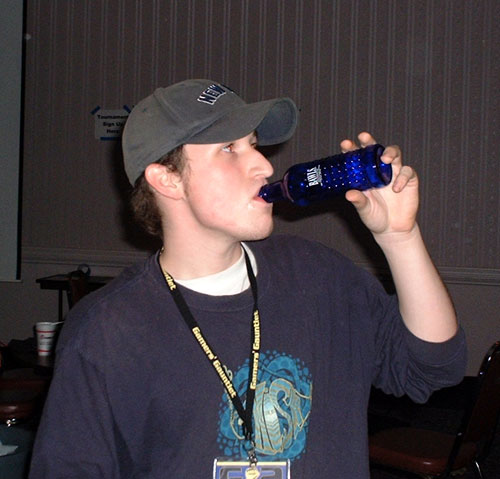 One of our new staff members, [QMS] Sniper, grabs some Bawls between server shifts.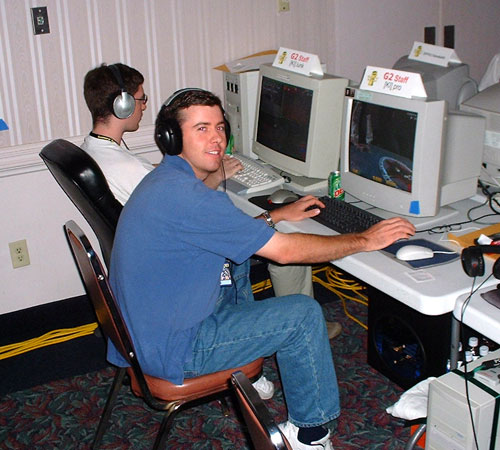 [KI].pro caught mid-game. Thanks to pro for donating a GeForce II pro 64MB video card for our big Friday giveaway!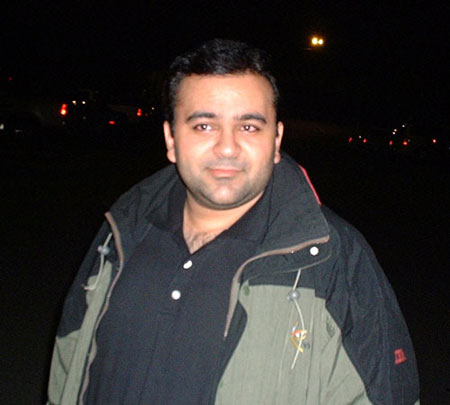 Kurrelgyre, one of our new staff members, says his position can be best summed up as a "self-admittedly overglorified roadie." Thanks go out to him for all the hard work with our set up and tear down... oh, and for making sure Bad Mojo stays in line.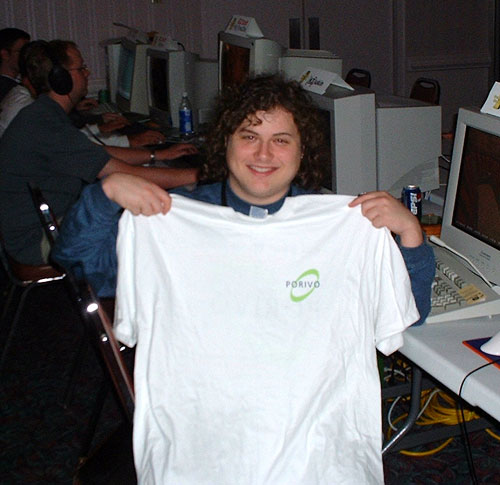 [KI].N8_Dawg provides photographic support as well as "Ping and game play validator."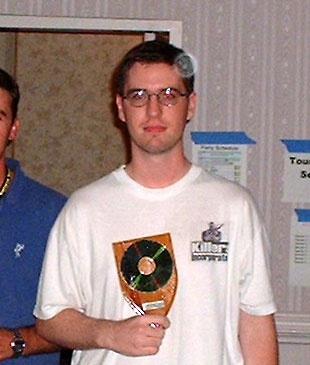 [KI].lunk is responsible for maintaining the G2 internet web server that you're reading this from right now. Say "hi" and wave!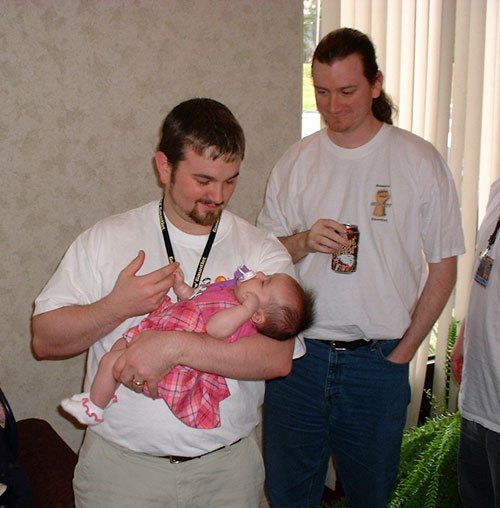 [AVL] Gouki shows off his new daughter. His wife is staff member [AVL] Giblet. We hear from Sniper the new baby's name is [AVL] Gouklet, wonder how they came up with that? Bad Mojo looks like he's ready for about three of these cute baby things. Thanks to Gouki and Giblet for server support and our great tournament trophies!